A hidden garden of Eden ensconced in the heart of Peru, Puerto Maldonado rests upon the juncture of the Madre de Dios and Tambopata Rivers. Laden with wildlife and natural beauty, Puerto Maldonado mesmerizes visitors from around the world. The glory of mother nature manifests itself in the diversity of the near-by Tambopata Candamo Reserved Area, Manu National Park, and the Bahuaja Sonene. These pristinely protected reserves take us back to a land before time as we are forced to realize how breathtaking our Earth is so long as we are willing to live in harmony with it. Where else could you explore through one million hectares of virgin, verdant jungle and wake up to the collpa of Guacamayos, a flourishing of hundreds of melodious, multi-colored macaws and birds along the river horizon? This paradise, flowing with the tributaries of the mighty Amazon river, instills a sense of respect and admiration for mother nature that many of us take for granted as we routinely reside in the concrete jungles of human construction. Here in Puerto Maldonado, the city elopes with the jungle, as the 46,000+ residents of the city adopt the Peruvian Amazon and Pampas del Heath savanna as their culture; their way of life; their residence. But they need help...

Looking back
Their struggling economy, dependent entirely on extraction of natural resources such as gold, wood, rubber, and fruits has cut-back to develop the eco-tourism industry for which we are so blessed to experience. But the indigenous tribes which guide us in their land: the Ese'eja, Machiguengas, Huarayos, Mashcos, Arasaris, Huachiparis, Shirenis, Inaparis, and the Amaricaris; all industriously work to make up for financial strife. Subsistence agriculture and cattle-ranching, along with a population explosion - mostly immigration from highlands, selective logging, and gold mining pollutes the Madre de Dios River and its major tributaries with mercury. Living conditions in the region are at the medium poverty level. 35% of the population in the Madras de Dios region depend directly on the Brazil nut industry, which is completed in three months and signifies a monthly per capita income of US$89. The agricultural products are maize, cassava, rice and plantains, which are sold in the local market or exported to Cuzco. All the major economic activities are however, still extractive - gold mining and timber exploitation are the principal endeavors. The poverty rate hovers constantly between 30 and 40%.

This pressure afflicts more than just adults, but also the children of these native tribesmen. With poor infrastructure connecting Puerto Maldonado to the rest of the world, there is little chance for the rest of the world to easily assist these hard-working, decent people. One proposed solution, the planned construction of a coast-to-coast, multi-national superhighway threatens to run directly through these remote jungle villages, literally cutting the community in two.
Progress in education
With historically low levels of investment in primary education and a highly centralized system, Peru has one of the most ineffective and inefficient educational systems in Latin America. In the Amazon, where villages and communities are famous for their voluntary work, the majority of self-financed public community projects have been dedicated to the construction and maintenance of their escuelitas (little schools) with little assistance except from their migrant clubs and associations in Lima or other large cities. This overwhelming drive to change personal, family, and community conditions by means of education began at least 150 years ago, at a time when public education was extremely limited and private schooling was open to only the elite mestizo and white populations of the few major cities. In 1990, however, 28 percent of all Peruvians, over 5 million people, were matriculated in primary or secondary schools, which were now within reach of people even in the remotest of places. The presence of a village school and teacher is considered by the poor as the most important first step on the road to "progress" out of poverty and a state of disrespect, if not for themselves, for their children.

Everyone in the area is affected, and supporting the children of these lovely people will enable the next generation to use the best of their culture and more modern technology to thrive in their environment. Educationally, the needs are great. The smaller schools in the outlying areas are barely recognized by the government and receive very little support. They do not have the proper school supplies, the few buildings they have are rotting and the sanitary conditions are deplorable.
In the city of Puerto Maldonado, the high school is more equipped, but the roof is still rusting and the microscopes in the lab are from the 1950's. Further, when a young person decides to go to secondary school, the student's family has to divide itself. One of the parents moves with the young student to the main city and the other partner stays in the community to maintain the farm. Mostly, the situation of these poor and newly arrived families in the city of Puerto Maldonado is unsafe and precarious. In a culture that is relying more and more on the tourism industry, they need ovens, electrical equipment and woodshop tools in order to learn the skills necessary to earn a living in this industry and help support their families.
Local follow-through
Anatta's plan involves assistance in both educational and medical arenas. Through the dedicated efforts, we have established a strong, proud, and reliable local network which has proven its readiness to follow through on our projects.

Already, the Filial Madre de Dios Hospital has received a badly needed heart monitor that will provide life-saving support to the community. This hospital, however, remains in dire need of even the most basic medical supplies. Bandages, saline, and antiseptic are in short supply and medical equipment is decades out of date. We have received a "wish list" and are making every effort to continue to improve the conditions in this badly undersupplied medical facility.

On our trip in November of 2006, Anatta is also committed to begin an ongoing process dedicated to the enhancement of the educational programs at three local primary schools. In addition to provision of basic school supplies, we will begin by donating requested educational materials and provide financial support to enable local carpenters and builders to begin proper construction of classrooms, a kitchen and bathrooms which will meet the fundamental requirements for a safe, sanitary learning environment. The possibility of educational enrichment programs will be explored, and incorporated into the second phase of our projects. We will also implement a secondary school scholarship sponsoring program for these impoverished children, helping capable students improve their academic skills and achieve a higher degree of academic success in these remote areas.

In the midst of the Amazon rainforest, the residents of Puerto Maldonado work hard to balance preservation of their unique ecosystem with the demands of maintaining a struggling economy. Influx of immigrants, poor infrastructure, and lack of adequate education help keep living conditions at the poverty level. Anatta's projects continue to enrich the standard of living by improving health care, hygiene, and educational services.
Projects
Colegio Carlos Fermin Fitzcarrald
Background
Colegio Fitzcarrald is the local school for middle and high school students in the town of Puerto Maldonado. The majority of the Fitzcarrald students come from rural communities, slums, or are natives. Almost 90% of the families are low income and have a low level of education. The school offers different areas of study, preparing the students for jobs in industry, technical service and science, or computer science.

We have, to date made several visits to this school, including the Anatta trips in November 2006 and June 2007.
 
Presented with numerous proposals, Anatta carefully considered the options and donated educational supplies, microscopes, a laptop computer, and a multimedia projector over the course of six months.
The science laboratory, already one of the school's prized features, was expanded and renovated following the microscope donations. It features modern biology, chemistry, geology and physics, as well as incorporation of deep-rooted local cultural beliefs.
Additionally, Anatta's team on the 2007 trip included Nathan Davies, a professional soccer coach who volunteered to run soccer training clinics with the Fitzcarrald children during our visit. It was an occasion for great celebration as 'football' is the most popular sport in the region -- everybody participated, including the headmaster! Nathan was a true celebrity, signing autographs for many of the students.
During each visit, the entire school including staff, students, and members of the community gathered to welcome Anatta with great fanfare and appreciation. There were demonstrations of local songs, dances, and poetry. The gratitude of these kind people was overwhelming - we were truly welcomed into homes and community.

In between visits, local Anatta personnel are in ongoing communication with school officials to determine ongoing need and to assure that supplies are in use by faculty and students.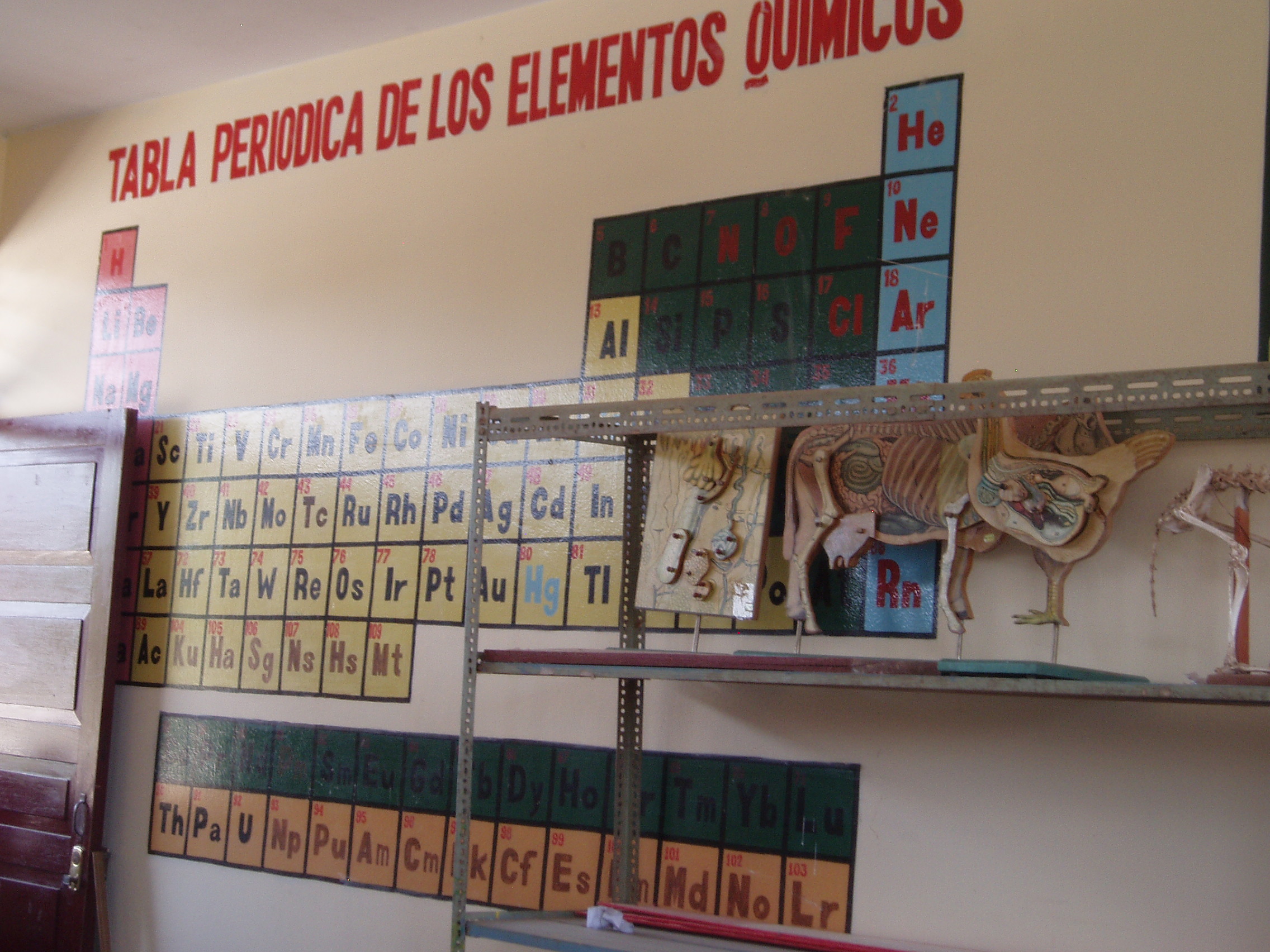 Adult Education Program
Background
Anatta has worked with the small community of Puerto Maldonado, Peru to create and complete many projects for the children over the years. Parents of these children have been inspired and have started an evening alternative school for adults to complete their educations. Over 300 adults meet at night, after long work days to improve their lives and the lives of their families. Anatta wants to support the further development of this project to aid these parents as they shine as role models for their children and actively demonstrate the importance of education. Anatta will strengthen the adult education program at the Guillermo Billinghurst School by supplying the funds for a computer, multimedia projector, and a screen to simplify and enhance their educational goals.
Bello Horizonte
Background
The community of Bello Horizonte is a small indigenous community of less than 100 people located deep in the Amazon jungle outside the town of Puerto Maldonado. In our 2006 visit we were invited through local connections as guests of the community, a privilege not offered to most foreigners by these private people.
Anatta was prepared to conduct research on the potential for health care and education projects, but soon realized the needs were much more basic.
 
The community submitted a detailed proposal for the building and installation of sanitary toilets and a shower for the 32 school children in the community.
We visited the area with the community leaders, and agreed on the plan and amount necessary to build the facilities.
This project began in November of 2006 and was completed by June 2007. Over the course of six months the community received monetary installments to complete the project.
After the initial work was completed and approved by Anatta's local ground crew, the community was given another installment to complete the construction.
Not only were two toilets, a shower, and a water fountain constructed, but an entire hydraulic water wheel pump system was required to bring the fresh water up to the facilities from 700 feet below in the Amazonian jungle! Our local crew completed the project under budget!
Throughout the process, photographs documented the progress. We returned six months later to visit the completed facilities and celebrate the success.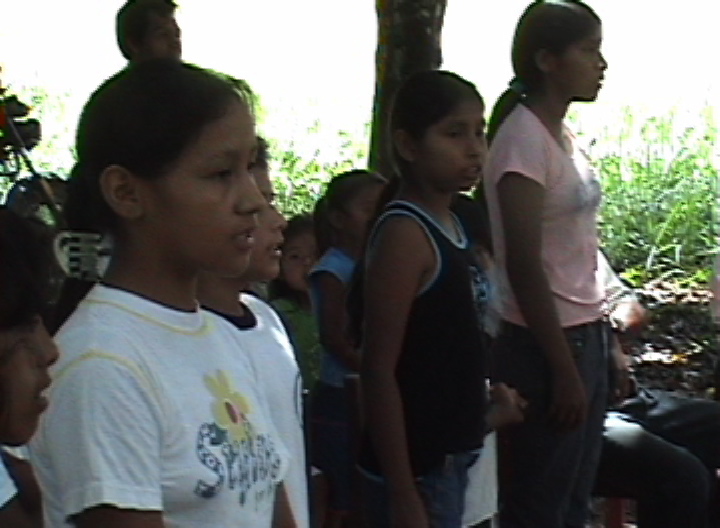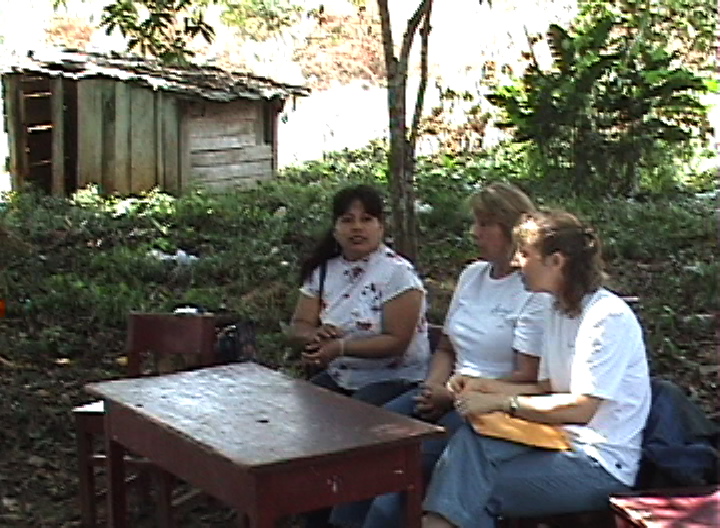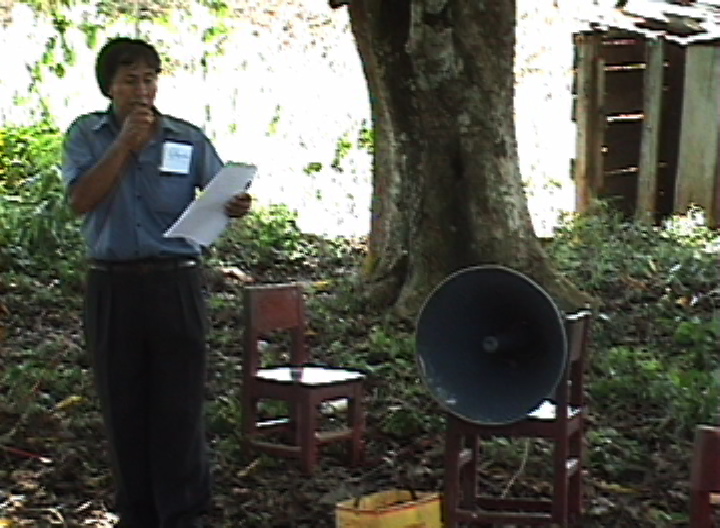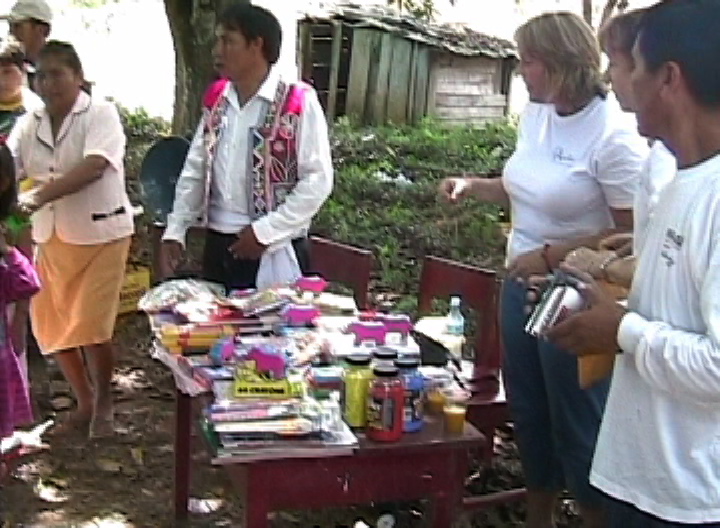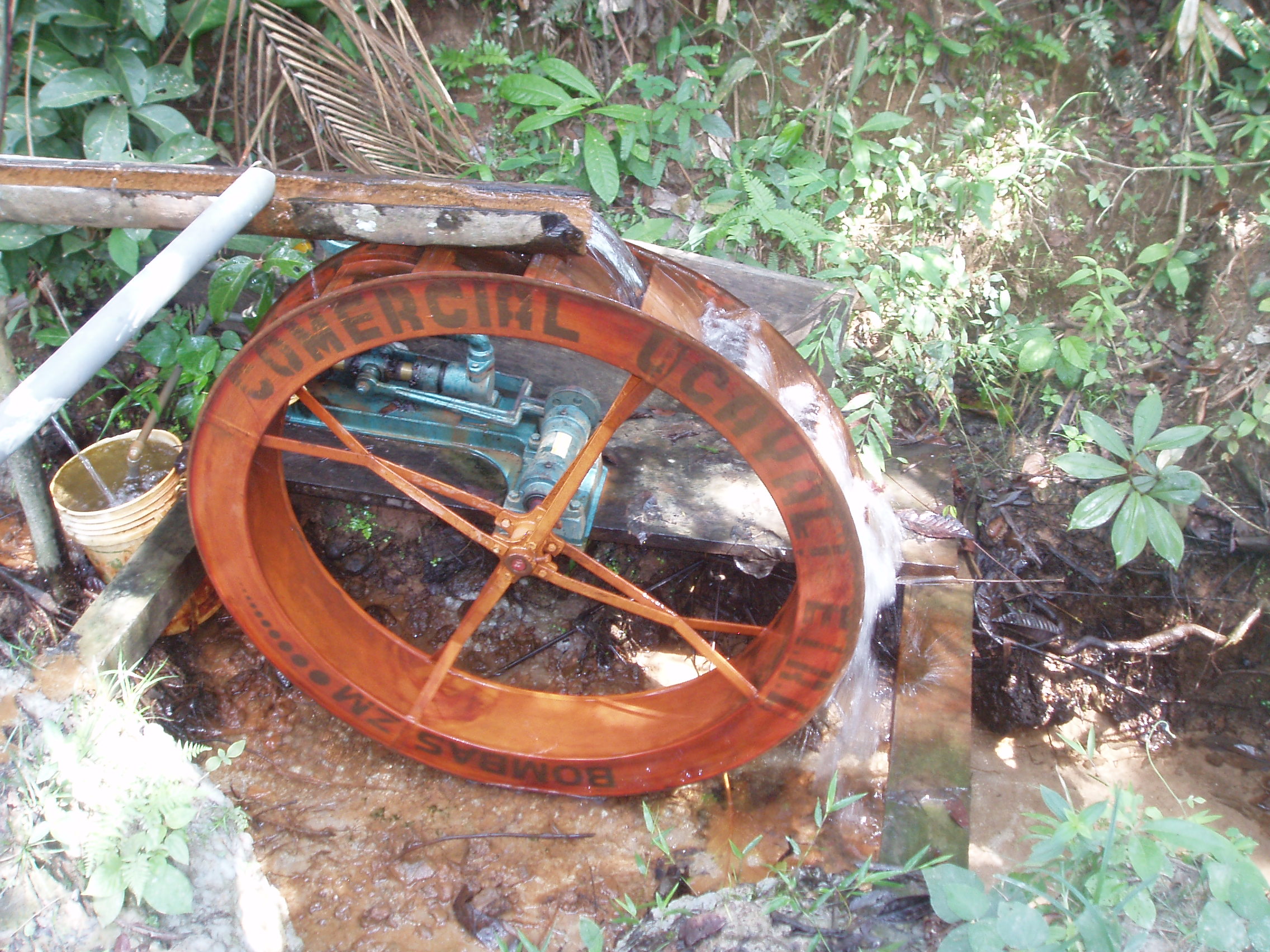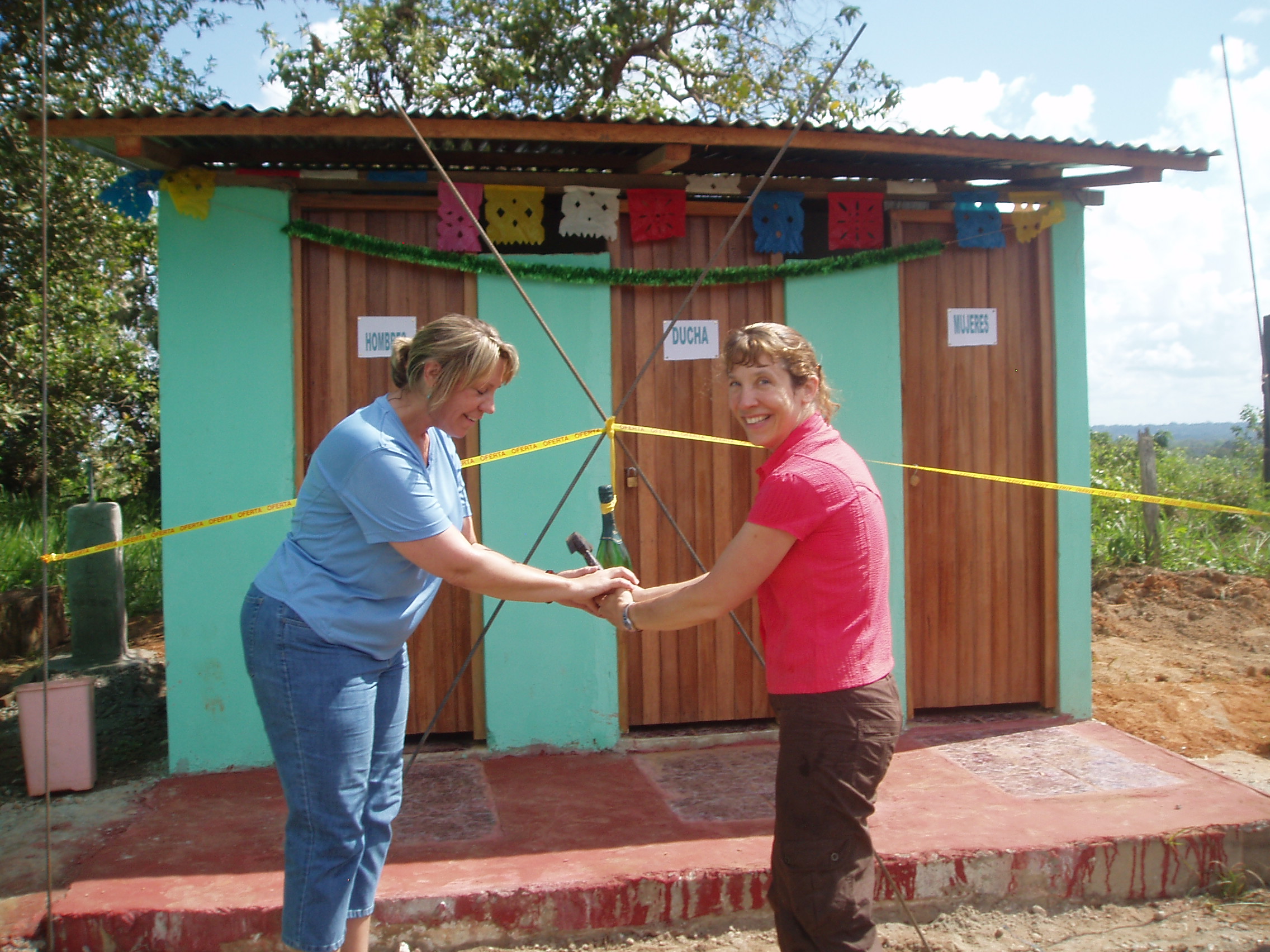 Communidad Infierno
Background
A second personal hygiene project was also completed for the school in the small community of Infierno, another indigenous location consisting of less than 200 people inside the Amazon jungle.
Our local team leader, Amador, had been part of this community, so were able to monitor progress.
In an initial visit, Anatta donated educational materials and discussed the timeline for project completion.
The community leaders prepared a detailed layout and budget for the project, and were funded in stages pending completion of each project phase.
The community leaders prepared a detailed layout and budget for the project, and were funded in stages pending completion of each project phase.
Again, through supervision of our local friends, a bathrooms and a shower were constructed for the 55 children.
Despite some delays in construction, the women of the community were able to step in and get the project completed on time!
In June of 2007, Conni and Jeri visited the site to view the completed project, and met with community leaders to discuss future possibilities.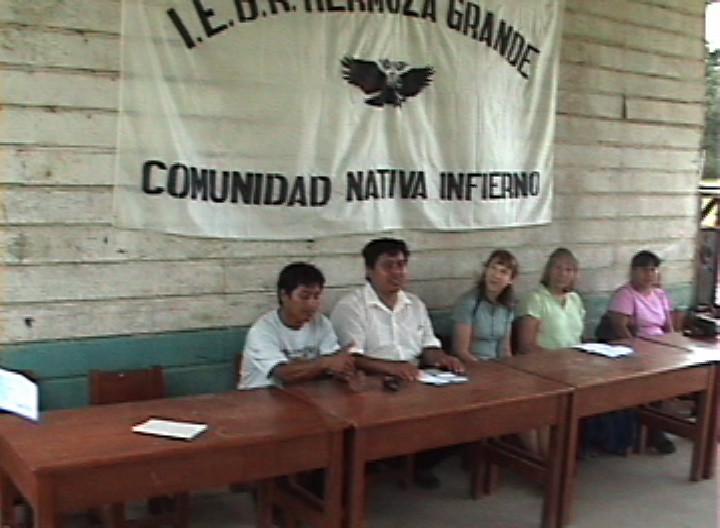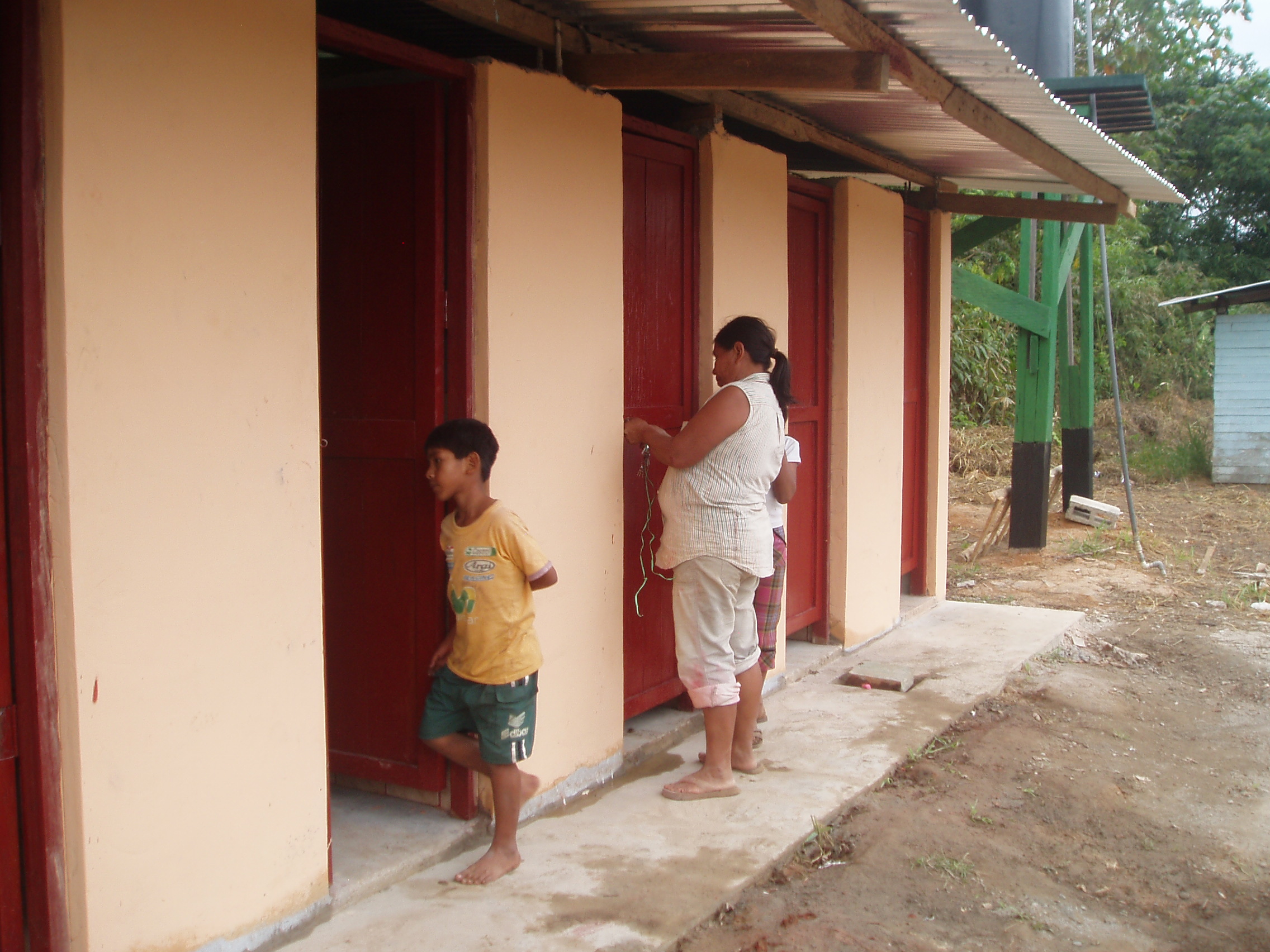 Casa Hogar san Vicente, Orphanage
Background
This venue on the outskirts of Puerto Maldonado is a home for orphaned, neglected or abused minors which operates in association with Apronia Ð the Association for Protection of Children and Adolecents. The organization was founded in 1996 by Father Xavier Arbex de Morsier, a diocesan priest originally from Geneva Switzerland. He has long been involved in child welfare protection in this region of the Amazon.

Casa Hogar houses approximately 40 children aged 4-18, and offers a home environment as well as access to health care, education and vocational training.

On Anatta's first Puerto Maldonado trip, we toured the Casa Hogar and met with Father Xavier. Anatta donated a variety of educational as well as creative art supplies to the children in residence at the time.
Hospital Filial Madre de Dios
Background
In 2006 Anatta donated a heart monitor, a fetal monitor, and basic medical supplies to the Filial Madre de Dios Hospital in Puerto Maldonado. We are in communication with hospital representatives and have conducted periodic on site visits through our local network to assess need and use of given supplies.

We are researching the possibility of an ambulance donation equipped with the needed supplies to serve the more rural outlying communities of Puerto Maldonado.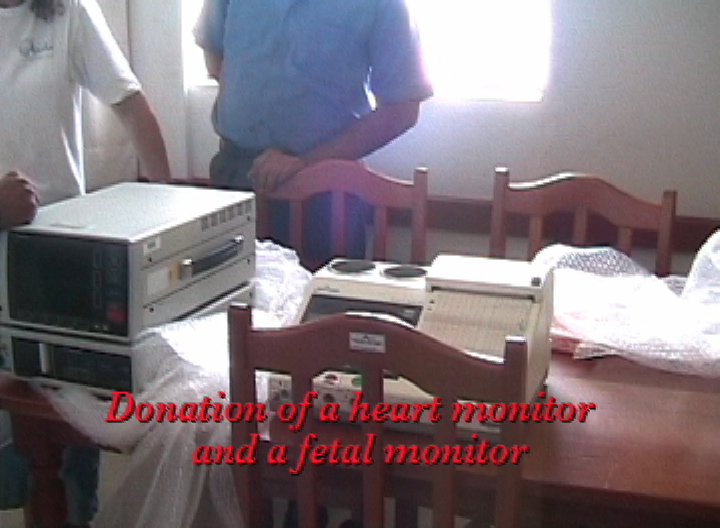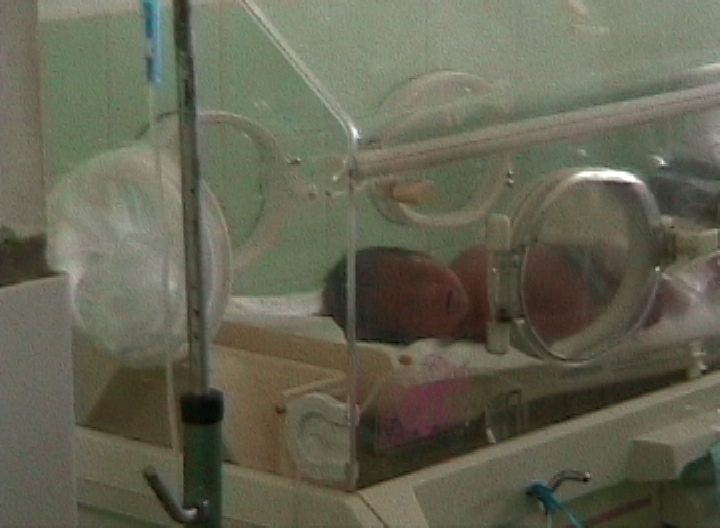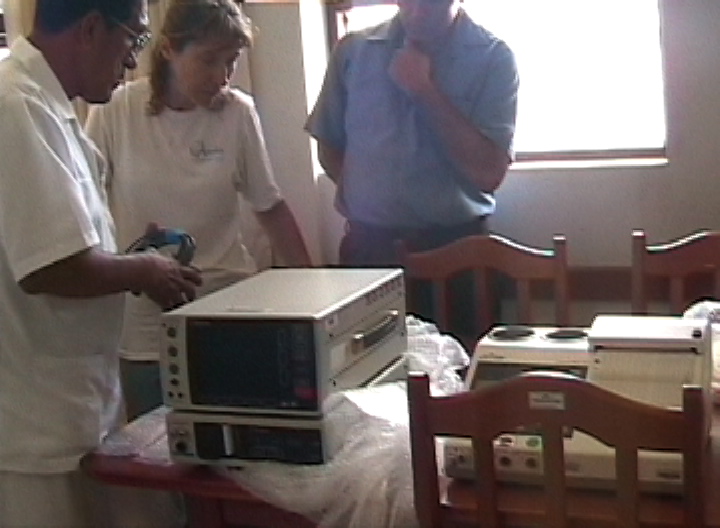 Jorge Chavez Medical Clinic
Background
Three doctors and several nurses rotate their services through this community medical clinic. The main services are obstetrics and treatment of motor vehicle accidents. Their equipment is primitive and outdated.
Anatta toured the facilities with the medical team, and visited with the staff and local community to hear their concerns. We donated a heart monitor and infant scale.
The greatest concerns were care of pregnant women and children. Second were head injuries caused by motorcycle accidents - helmets are not required and not commonly utilized, especially for passengers.
This old vehicle above serves as the only ambulance. There is no emergency medical equipment on board. An old mattress covers the cargo area. Anatta has a trained crew of volunteers ready to work with the community to build a new fully equipped amulance. We hope to have enough funds to make this dream a reality by the summer of 2009.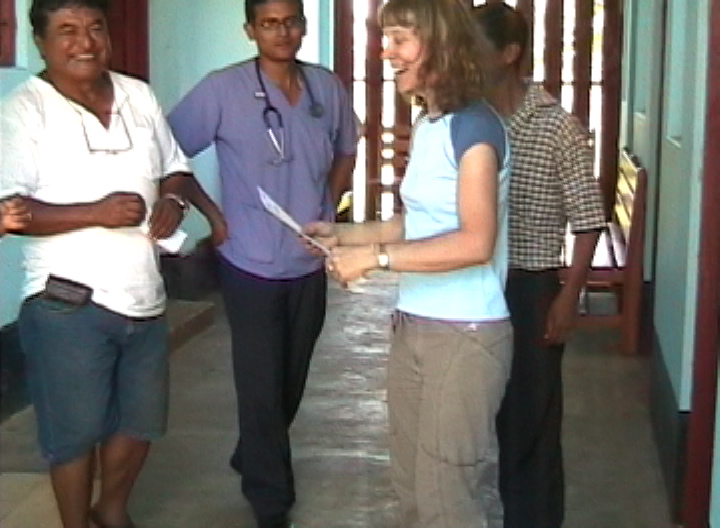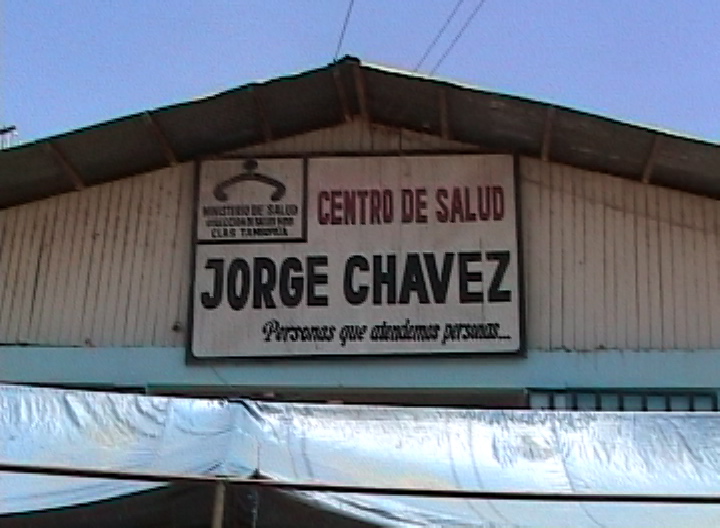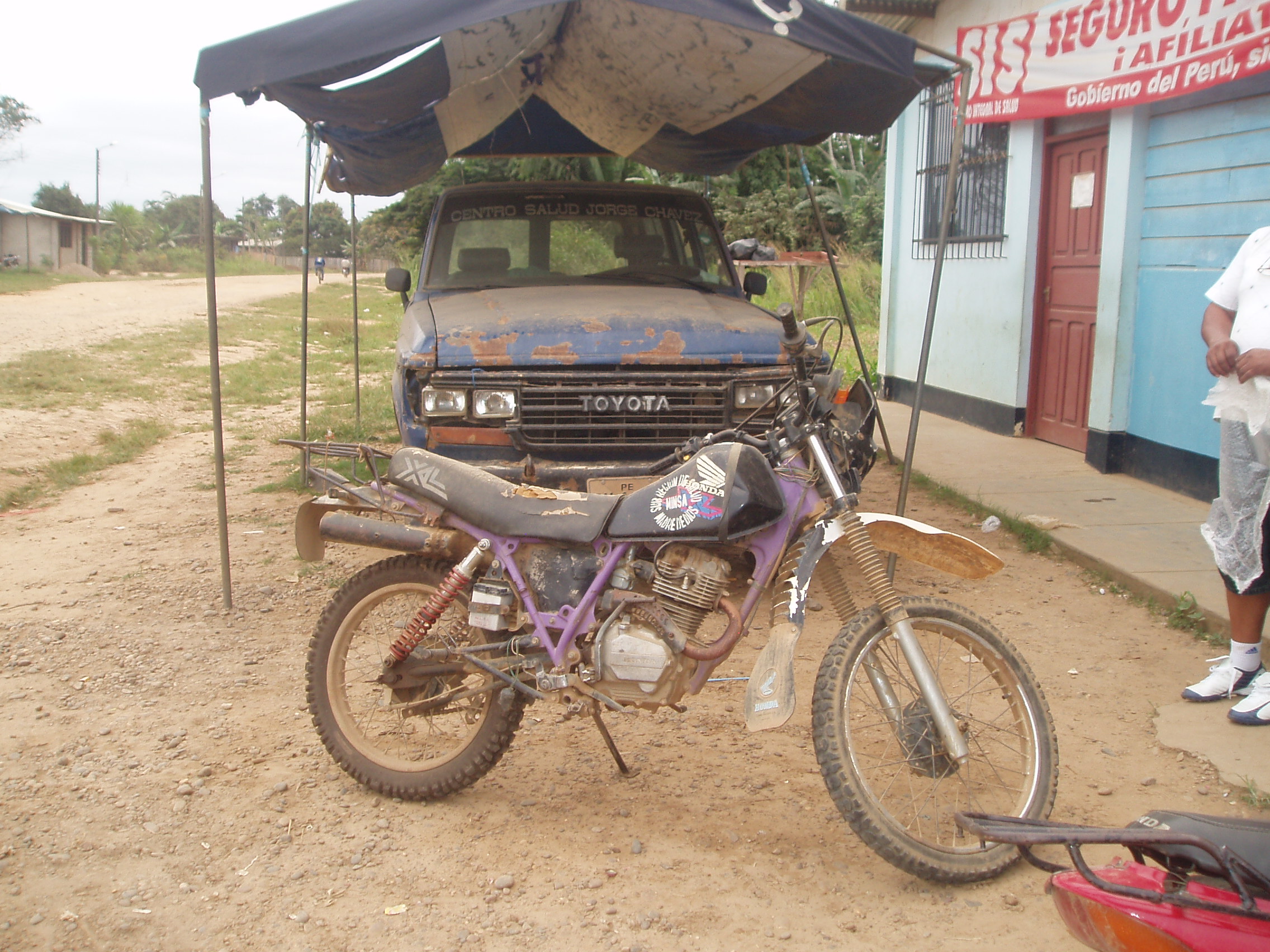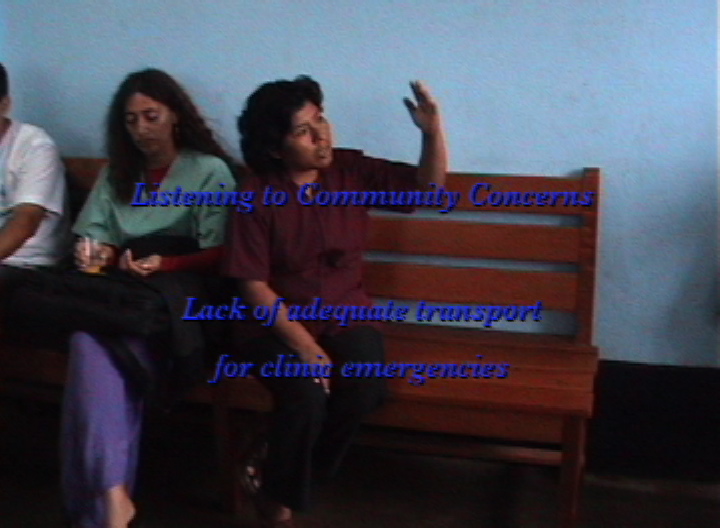 Rayito del Sol (El Jardin)
Background
Rayito de Sol is a local Kindergarten in Puerto Maldonado serving over 300 children from impoverished circumstances. It is a brightly decorated facility with dedicated teachers and staff. On our initial Anatta visit to Peru, this little school was on our list of most needy and deserving places for site visit.

Upon our arrival, the entire community including parents, teachers and children had gathered to welcome us and provide a tour of the facilities.
In view of our limited resources and the dire need in many other locations, Rayito was not placed high enough on our list of projects to receive any assistance. On later hearing of our decision, the community did not voice any discontent, rather thanked us for our visit and interest.
Long after that trip, though, we often thought of those ramshackle buildings. The kitchen, in particular, was memorable. The small room consisted of dirt flooring, an old table serving as countertop, and a huge old pot resting over a hole in the ground in which a fire was built.
This facility provides meals for over 300 children daily. For many, this is their most substantial meal.
For $3,000, we can build a clean modern facility.
On our second visit, we donated what we could of the limited educational supplies we had brought, but once again, had to postpone further assistance. At our request, the grateful teacher representatives presented us with a proposal detailing the specifics for the construction of a proper kitchen. Next time, we hope to have enough extra resources to begin this project.